Australia is renown for its high quality beef and meat products.
Australian meat products are available for export to world markets.
GEA also sources meat products from around the world.
Quality Beef
Quality Beef Primals
Quality Lamb
Quality Pork
A GRADE
Quarter cut
Australian Beef
Cow & Steer
Beef from Argentina
Beef from other countries
100% DLC or TT
CIF China
Stockingette packaging
Weaners
Vealers
Feeder steers
Backgrounding cattle for feedlots
Bull beef
Cull cows
heifers and cows
Unjoined heifers
Domestic and/or export trade finished cattle
Animals for live export
Niche market cattle
See below for details
A GRADE
Beef Primals
12 to 22 cuts
Frozen
Packaged
100% DLCF or TT
CIF China
A-GRADE
Australian Lamb
Frozen
Packaged
100% DLC & TT
CIF China
Grass fed
Grain fed
Organic

A GRADE
PORK HALF CARCASS
(Ractopamine Free)
PORK HEAD WITH EARS
PORK FRONT FEET GRADE A SHORT CUT
PORK BACK FEET A GRADE A SHORT CUT
PORK RIBLETS FLANK ON
SKIN ON HAM BONE IN WT. 11.5KG / 12.5KG PER PC
PORK TRIMMING (80/20) LEAN MEAT AND FAT 80/20
Pork from Portugal,
Brazil,
Chile,
Canada
and other countries
Minimum 10 containers per month
CIF to China
QTY per container
125MT
TT and 100% DLC
Front feet 18-19cm
300g-350g
Toes on

QUARTER CUT beef – cow and steer
PRIMALS (TOP CUTS) – 12 or 22 cuts minimum
CAMEL MEAT
KANGAROO MEAT
A GRADE
Australian
CAMEL MEAT
Frozen
Packaged
A GRADE
Kangaroo Meat
Frozen
Packaged
Click HERE for APPLICATION FOR SUPPLY OF AUSTRALIAN MEAT
GEA has supply arrangements with a number of Australian quality beef producers and abattoirs. When exported the abattoir ID and SIF codes and all international details are supplied.
GEA supplies high quality Australian Beef products:
Quarter cuts – USD$ TBA per kilogram (CIF) (price subject to change every 48 hours)
Primals – USD$ TBA per kilogram (CIF)   (price subject to change every 48 hours)
Our preference is quarter cut frozen supply and primal (when available) products. Stockingette packaging.
Minimum order Quarter cut:
Minimum quantity contract:  10 containers per month for 12 months renewed thereafter.
Payment options:
Telegraphic TRANSFER or
Documentary Letter of Credit (with a recognised Top 25 world bank)
Payment Tranches for Telegraphic Transfer:
50% on order,
50% on bills of lading
Approx per 20ft container:  20 M/Tons
INCOTERMS: CIF Peoples Republic of China Packaging: 200-250kg
"A" GRADE Premium (Australian) cow (B grade also available)
Quarter Beef Poly-Stockinette packing
Halal Certified Quartered between 2/11 ribs
BEEF – Chinese / English Cuts
To view larger – mouse open in new tab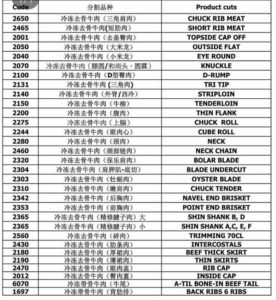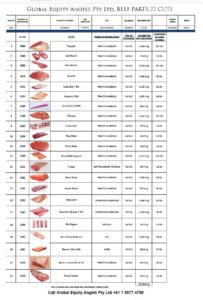 Waygu beef as well.
LAMB CUTS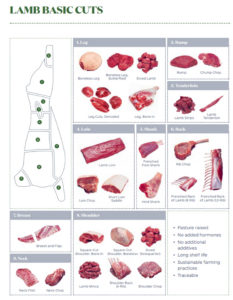 Note: Beef prices subject to change every 48 hours.
Ask us for a quote.
GEA – Different, Better!