We are one with global commerce!
Capital raising
GEA brings buyers and sellers, investors and inventors/entrepreneurs  together from around the world to raise capital for Australian projects using international and domestic funds generally for ,medium to large scale projects. These projects can require capital inflow, joint ventures, commercial loans, investment opportunities and much more.
GEA also provides capital for start up and existing projects and takes an equity position in the venture.
Due to non disclosure, confidentiality and security Agreements, projects under consideration or in progress are not listed on this site. Interested venture partners, distributors and agents can contact us or register for other investment project opportunities via our 'contacts page' on this site.
Commodities & Exports
GEA also supplies Australian produce to the world in partnership with its logistics export partners. We also supply produce from world markets to other countries and Australia. Major lines include: Chicken products, Beef products, Infant Milk Formula & Australian Spring Water in bulk. Click here to see more
ADVERT: NEED AWARD WINNING PHOTOGRAPHY for your product or service?
ADVERT: NEED DIGITAL MARKETING ?  LaFrankie Agency & Co.
 REALESTATE RESIDENTIAL & COMMERCIAL  MARKETING  (AH Realty Lic No.3196081)
A new breed of real estate marketing aimed at matching end user requirements with available up market residential and commercial investment properties and business opportunities, including 'we care' property management services – Global/Australia
PROPERTY DEVELOPMENT
Gold Coast Queensland – 2 tower complex
AQUA CANNES is a planned three tower development in Surfers paradise with Sea and River views, restaurants, hair and beauty facilities, medical residence, luxury water front villas,  residential (split level 2 & 3 bedrooms) and commercial apartments, five star hotel, aged care facilities, casino, roof top restaurant's, Motor Yacht Marina and Yacht club, Gym and pools and much more. A sky-bridge will link all three towers and provide stunning views with café  environments enabling chill out moments day and night. An entertainment complex within the construction will provide a myriad of opportunities to enjoy the life style. – Global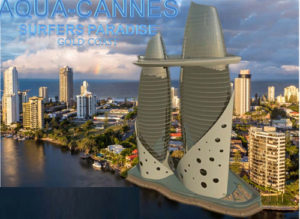 Artist concept drawing only. Final design TBA.
BUNBURY – Western Australia
14 up market apartments on the beautiful sea shore for discerning living or investment. One of the few remaining opportunities to live on the sea front in an idyllic setting in luxury and elegance. Only two hours from Singapore by plane. Buy off the plan. International enquiries welcomed. – China

GEA provides high yield resource investment opportunities in Australia for overseas capital investors. With huge changes in the USA investors may be seeking more offshore investments in non volatile countries and solid economies like Australia.

Contact us for a list of current projects available in a country with strong economic history!
GENERAL ADVICE DISCLAIMER
GEA is an investment marketing group and business development company bringing sellers and buyers from all over the world together for mutual reward. This Site is provided for informational purposes only and does not constitute an offer to sell, nor a solicitation of an offer to buy, any security referenced in this Site.
GEA is not providing specific investment advice to any individual viewing the content of the Site and does not represent that the projects, securities or services described herein are suitable for any specific investor.
The information provided on this website is general in nature and does not constitute financial advice. It has been prepared without taking into account your objectives, financial situation or needs. Before acting on this advice you should consider the appropriateness of the advice, having regard to your own objectives, financial situation and needs. If any products are detailed on this website, you should obtain a Product Disclosure Statement relating to the products and consider its contents before making any decisions. Where quoted, past performance is not indicative of future performance.
GEA disclaim all and any guarantees, undertakings and warranties, expressed or implied, and shall not be liable for any loss or damage whatsoever (including human or computer error, negligent or otherwise, or incidental or consequential loss or damage) arising out of or in connection with any use or reliance on the information or advice on this site. The user must accept sole responsibility associated with the use of the material on this site, irrespective of the purpose for which such use or results are applied. The information on this website is no substitute for financial advice.
GEA and its Representatives do not accept any liability for any errors or omissions of information supplied in this web site. GEA will endeavour to update the website on a regular basis. However, information can change without notice and GEA does not guarantee the accuracy of information on the website, including information provided by third parties, at any particular time.
Except insofar as any liability under statute cannot be excluded, GEA and its employees do not accept any liability for any error or omission on this web site or for any resulting loss or damage suffered by the recipient or any other person. Unless otherwise specified, copyright of information provided on this website is owned by Global Equity Angels Pty Ltd. You may not alter or modify this information in any way, including the removal of this copyright notice.