Bio-domes . . . ideal for:
Individuals – small lots
Individuals – with acreage
Communities
Aged care villages
Farmers
Company operations
Civil projects
Schools & clubs
Off the grid living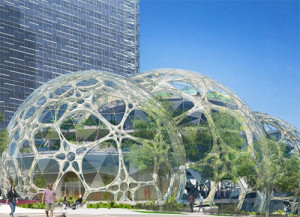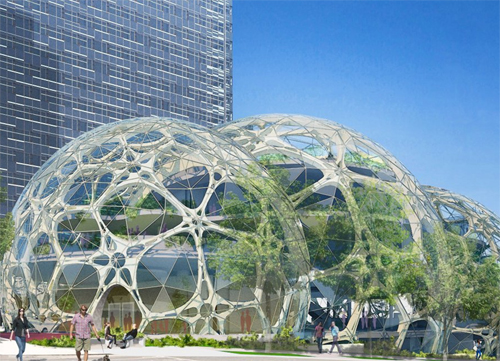 You may or may not believe the opinions of doom and gloom for our planet that are expressed by some people. BUT . . . you would like to eat fresh home grown food, without the chemical cocktails we consume, all year round if you could.


The BIODOME is a way to build your own food supply with little management and we can assist you to build your own when you purchase a BIODOME KIT.

Many companies world wide especially in the USA and UK provide a geodesic dome solution. Here in Australia the requirements can be a little different and we engineer the right kit solutions for the various climates. You can choose from several kit types and we deliver and you can DIY or with our professional services.
Basic kit:
Includes frame, door and base with all accessories to assemble (screws, hinges, door handle etc) but does not include, cover, staining, pre assembly or any auto windows. Some DIY knowledge is required to build the dome and the instructions should be followed carefully. The frame is made from pressure treated sustainably sourced softwood and can be covered in polythene, glass, Perspex, aluminium and many other materials.
Stained:
Green wood stain is the standard finish; other colours can be applied as required, staining is purely for decorative purposes as the timber is pressure treated to prevent premature rotting of the frame. Staining must also be done before the dome is covered so you may want to select this option if you're having a pre covered or delivered and built dome.
Pre assembled:
Your dome can be pre assembled into hexagon and pentagon panels to make the kit easier to build on site; this would normally take about a day to do and must be done exactly as per the instructions. Pre assembly can appear quite complicated and if not done correctly can make the kit impossible to build.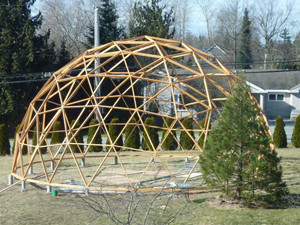 Pre cover:
Domes can be pre covered with polythene film at the factory to save time on site, pre assembly and covering can save about four days work, this means a kit can be put up in one day instead of a week. For customers who find covering the dome frame too laborious and time consuming, we can cover your dome in the factory with the polythene cover of your choice then have it delivered to site ready to be put straight up. Delivery:
Packed on a pallet and delivered direct to you, ready for self-assembly. The dome kits can be packed standard, pre assembled or pre assembled and covered. Please be aware that pre covered domes need to be handled with care as damage to the plastic cover can occur.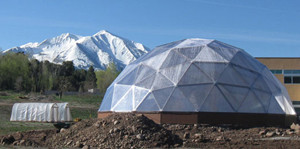 Deliver and build:
Includes delivery, pre assembly, pre covering and building the dome on site. If you have limited DIY skills or don't have time to build the kit yourself, this option means that the dome can be delivered and built usually in a single day. Price includes: standard frame, pre assembly and covering, delivery and building. Staining and windows are not included; prices for these are shown on the accessories pricelist above. A flat level site should be provided ready to build the dome.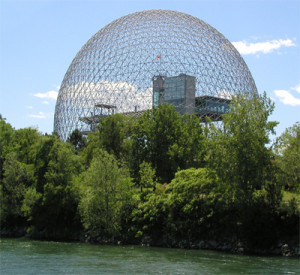 Let us do it for you and all you have to do is maintain and eat the food supply!
Weather Packages
Windy Weather Package
1. Do you live on a hilltop or ridge exposed to the prevailing wind?
2. Are there winds gusting to over 60 MPH in your location?
3. Do you live in a very windy area?
If you can answer "Yes" to any of these questions, then we highly recommend the Windy Weather Package for your BIO-Dome kit.
This package adds sturdy Bayliss Hydraulicheck openers to all of the vents to prevent the openers and vents from being thrashed by strong winds. It also includes an upgraded Aluminet Shade Cloth that is designed to go on the interior of the BIO-Dome.
Desert Heat Package
1. Do you live in a desert or semi-desert climate (i.e. hot climate with low humidity)?
2. Do temperatures get above 95° F on a regular basis?
If you can answer "Yes" to any of these questions, then we highly recommend the Desert Heat Package for your BIO-Dome kit. This package adds a Solar Powered Cooling Fan to your Classic Kit for extra ventilation and cooling and utilizes the evaporative cooling effects of a full-surround Misting System that easily connects to your garden hose.
Mild Climate Package
1. Do you live in Hardiness Zone 8b or warmer (i.e. your lowest winter temperature never goes below 15° F)?  If you can answer "Yes" to this question, then we highly recommend the Mild Climate Package for your BIO-Dome kit.
Contact us to discuss what things you can do to have the BIO-Dome work where you live.
Solar Powered Waterfall
The solar powered waterfall provides aeration for the tank which the fish enjoy and helps to slow down algae formation. Even better, it creates a wonderful ambiance inside the BIO-Dome.
Metal Glazing Strips Upgrade
Rather than using the clear aircraft tape that comes standard with the Classic Kit to seal the seams between the polycarbonate glazing panels, the Metal Glazing Strips Upgrade includes a strong roofing tape covered by custom built aluminum strips to seal the seams. After 10+ years of use they have found this upgrade provides a longer lasting, lower maintenance option for sealing your BIO-Dome.
Redwood Bottom Plate
The strut on the foundation wall that lays flat against the ground is termed a "bottom plate". The Classic Kit comes with a treated ProWood bottom plate. ProWood is a safer alternative to traditional pressure treated lumber, but some gardeners prefer to go with no treatment at all. For this reason we offer an upgrade to an untreated Redwood Bottom Plate that is resistant to decay for many years
INSTALLATION SERVICES:
We provide the products and services to establish the BIO-Dome for communities, aged care centers and corporate requirements or just about anyone else wanting large scale kits.
Owner/Self Install: (26′ Domes and smaller)
The owner can install the Bio-Dome by following the instructions in the manual and installation videos provided with each BIO-Dome. We recommend that at least 2 people participate in the installation, though some tasks can be done alone. We tell customers to plan on your self-installation to take at least twice as long as our crew installation because of the learning curve involved. We recommend that you have at least basic construction skills (such as experience working a drill, saw, and hammer).
Supervised Install: (Supervisor +1 Crew Member Required for 33′ BIO-Dome)
We can provide a Certified Supervisor to work with the owner and owner-hired to install the BIO-Dome kit. Installation usually takes 2-5 days depending on weather, Dome size, number and expertise of crew. The supervisor works as well (try to keep up with him). Separate travel, lodging and per diem costs for the supervisor also apply.
Full Crew Install: (Required for 42′ BIO-Domes)
We can provide a BIO-Dome Installation Crew to assemble your BIO-Dome in 2-5 days, which is the easiest option for many owners. Separate travel, lodging and per diem costs for the crew members also apply. Installation of some packages and upgrades is additional. Please call or email us for a personalized quotation.
Greenhouse Vent Openers
The automatic vent openers are heat activated and require no electricity to operate. The upper and lower vents open and close at an adjustable preset temperature due to the melting and expansion of beeswax in a piston. Cooling of the BIO-Dome is then acheived as hot air escapes from the top vents and cold air is drawn in through the lower vents. This creates a "chimney" effect and prevents overheating. The window vents close automatically, freeing you to go on vacation without worry. The larger domes, instead of lower vents, have cooling fans that are automatically regulated. The vent openers can be easily disconnected to close the vents at will. The two types of openers we provide for the Dome are described below
Uninvent Openers
The Univent Openers are standard on the smaller sized vents and have proven be reliable and efficient automatic vent openers. The threaded pistons are easy to adjust, which means you have total control over when your vents open and close. The Univent Openers are also simply disabled by squeezing the arms together and disconnecting from the mounting bracket. it is good to do this in winter if snow builds up on the outside of the dome.

Bayliss Hydraulicheck Vent Opener
T he sturdy Bayliss Hydraulicheck vent openers are custom made in the UK and allow the Growing Domes to withstand high winds. The "hydraulicheck" feature of the opener prevents the vent from being yanked open by strong winds. These openers are highly recommended for BIO-Domes that are on a hilltop or ridge exposed to prevailing winds, that are located in an area that receives gusts in excess of 60 mph, and/or that are in a very windy area. As part of the Windy Weather Package, you will receive a prescribed number of Bayliss Openers per vent to protect your vents from wind damage.
 And what about small indoor Bio-Domes for houses and apartments?
There are a range of units designed for smaller one or two people food growing and these are called Bio-spheres. The same technology applies using Aquaponics and are ideal for herbs and other plants.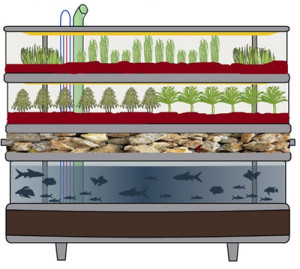 Even small units can grow food . . .
Contact us for more details!