New high-tech Solaris LED Lighting is now available from GEA for commercial lighting requirements. GEA is involved in funding the expansion of the Singapore company into Australia. This new technology represents a giant leap forward for commercial lighting requirements where cost of electricity is an issue. It is based on patented LED technology only available from Solaris Pte Ltd.
Click on the image below for a PDF presentation 9.5mb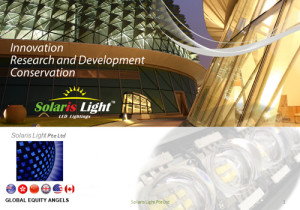 Ideal for councils and local government organisations for parks, sporting events, sporting facilities, walkways, street lights, rural roads, highways, building lights and much more. Sports venues, tennis courts and much more.
Most powerful LED emitters
Small foot print per watt
40W to 400W industrial lighting
Compatible with sensors, motion detectors & photocells
Intelligent lighting control – dimmers & timers
Energy recovery systems – solar panels systems & wind turbines
Retrofit exiting luminaries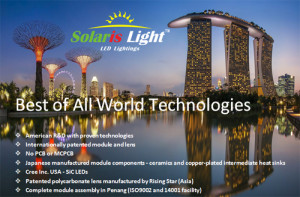 GEA can supply to corporations and Government requirements.
Solaris patented module is a platform to mount a selected cluster of high power LED with robust mechanical and electrical solutions to deliver superior thermal and optical solutions closest to HID bulbs
Why LED's?
Significantly lower energy consumption
Extended lifetime in excess of 5 years
Improved physical robustness and smaller size
Immediate on and off switching
Minimal maintenance
Environmentally friendly    (no hazardous substances)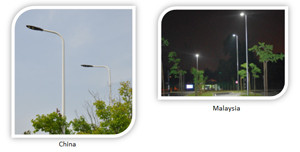 Internationally renowned LED lighting – ask us for more details